Author by Nas Compare on Feb 7th 2022
Review of the Titanium Micro TH7175 PCIe Gen 4 NVMe SSD
I think it would be fair to say that over the last few weeks I have seen ALOT of SSDs. Because of a myriad of industry affecting events in the last 18 months (Covid, Chia, Trade Wars, Component shortages) the usually regimented and carefully planned release schedules of the SSD brands have been thrown into utter chaos, leading to a huge number of high performing SSDs all landing into the market in the usually quiet summer period. All of these SSDs have been loud and proud about their performance, brash and shouty in proclaiming their superiority over their competitors – all except one. Titanium Micro and their TH7175 PCIe 4.0 SSD is one that you could oh so easily have missed. There is not a hugely well-known brand in the home/commercial sector and are all too often seen in business and enterprise bundled solutions. However, despite their rather modest stance on promoting their products in more consumer-friendly sectors and even the retail packaging of their drives being less number heavy, the Titanium Micro TH7175 is possibly one of the highest performing PCIe 4.0 NMe SSDs that I have reviewed on NASCompares so far in 2021/2022. However is the Titanium Micro TH7175 SSD a little too good to be true? Are there any hidden compromises and does it deserve your data/ Let's find out in today's SSD review.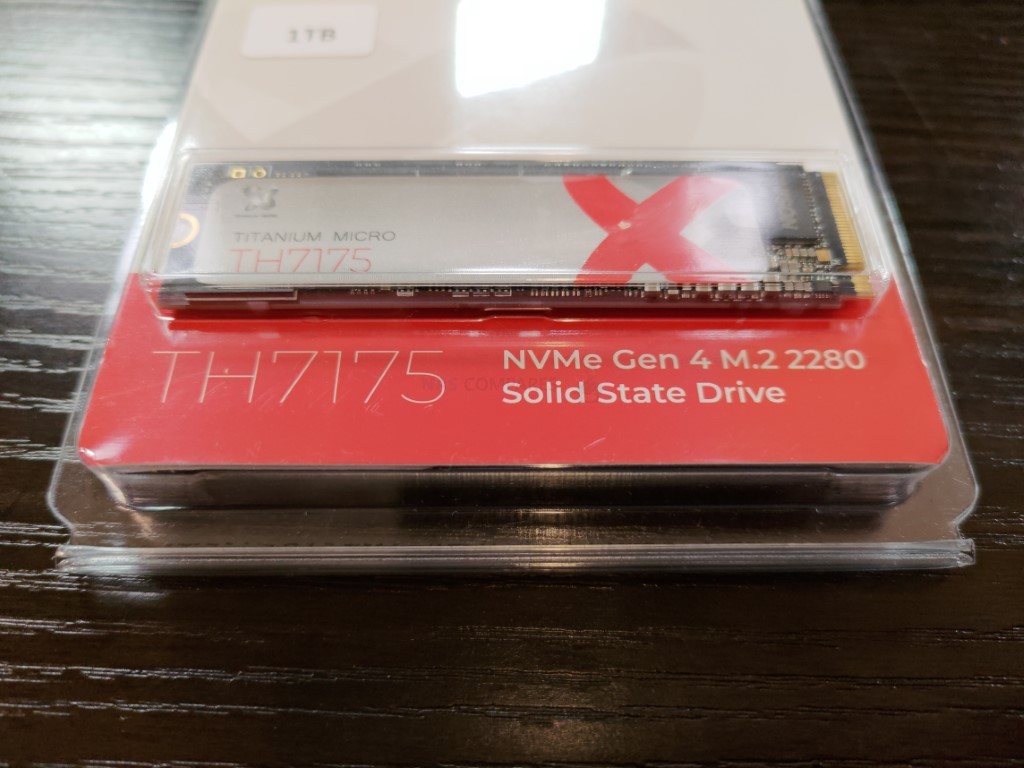 Titanium Micro TH7175 SSD Review – Quick Conclusion
When it comes to the overall performance of the Titanium TH7175, you cannot help but be impressed, as it absolutely delivers on each of it's claims online. Plus, the fact that the brand is so fantastically understated in its approach compared with other brands in its online marketing and product presentation is pleasingly rare. The physical drive itself is pretty underwhelming and avoids a number of the snazzy labelling for good or bad, so you really only have the performance and stats to go by on this drive, which holds up well. The Price tag, though not as low as some mid/late 2020 released PCIe4 NVMe SSD, is still quite affordable, especially when compared against some of the other Phison E18 enabled SSDs available right now. The availability of this drive is nowhere near as widespread as others tough and this may likely hurt how well it fares in an increasingly busy SSD marketplace! If you are looking for a solid, honest and reliable NVMe SSD for your PCIe 4.0 enabled system, this ticks a lot of boxes for gamers and even has a dependable write speed for those content creators and editors upgrading their storage in 2021/2022. Plus the inclusion of an especially rare yet highly reassuring 7-year warranty is not to be ignored.
PROs of the Titanium Micro TH7175
CONs of the Titanium Micro TH7175
Genuinely Impressive Performance

PS5 Compatibility Confirmed

7 Year Warranty (with Registration)

Available in up to 4TB

1.2 Million Read IOPS (4TB model)

Modest Presentation is a rare treat!

Particularly powerful PC required to crack 7,000MB/s

No Inclusive Heatsink Option

Availability is lower than the bigger brands
Titanium Micro TH7175 SSD Review – Packaging
As already mentioned, Titanium Micro are NOT a particularly loud or over-sharing kind of brand. Indeed, the retail packaging of the TH7175 SSD is fantastically understated, arriving in a simple plastic shell as you might find hanging on a rack of your local grocery store. This kind of packaging is not new in computer components, but is usually found in memory modules and less commercially desirable parts. I query the protection this kind of retail packaging provides to such a delicate component, but am still just a bit surprised at the complete lack of ANYTHING related to the 7,200MB/s+ Sequential Read, 6850MB/s Sequential Write, 1.2M IOPS or anything even remotely boastful (as found in EVERY SINGLE PCIe SSD I have reviewed lately). I cannot decide if this is a good or bad thing yet!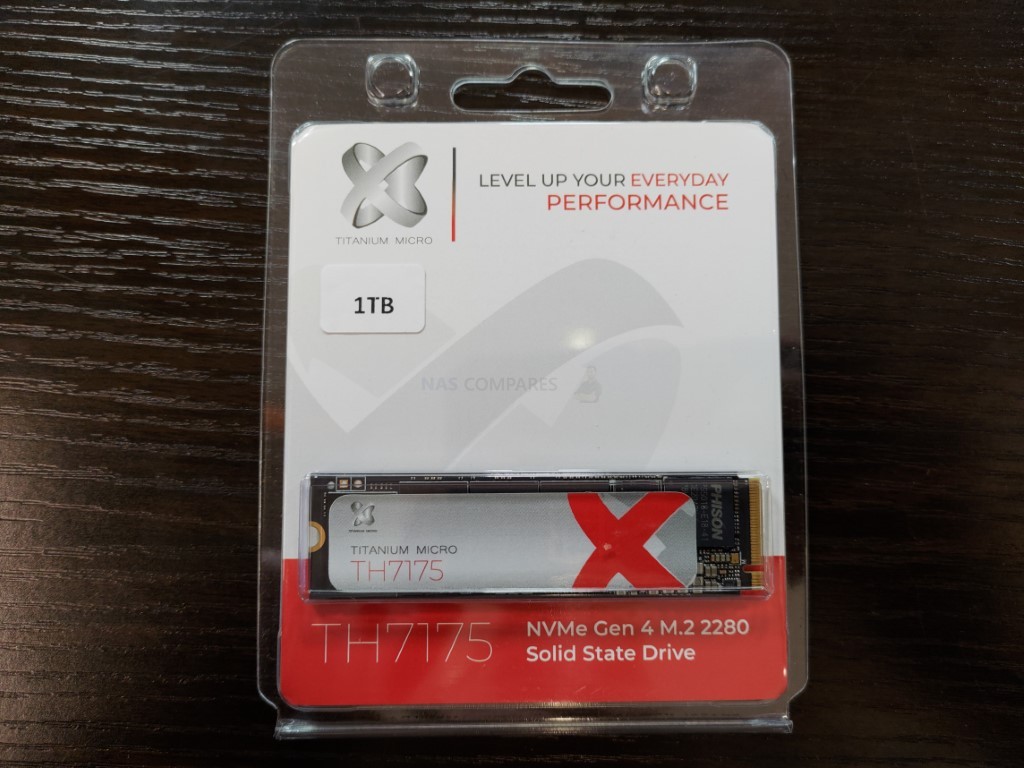 In fact, the ONLY thing I can find on this retail packaging for the Titanium Micro TH7175 SSD that I would describe as boastful/loud is the brand highlighting that this SSD arrives with a 7-year warranty available to the buyer. Yes, SEVEN years, comprising of a 5yr standard warranty and then (if you register online) an additional 2 more years. I have criticised brands like Sabrent previously that have offered 1yr standard warranty and 5years IF you register, but this is very different with the TH7175, as you do genuinely feel like you are getting something 'extra' for registering, rather than the registration being required for the 5yr warranty as you find in practically ALL other SSD brands. I can see why they would make a point of highlighting this 'longer than most' warranty period.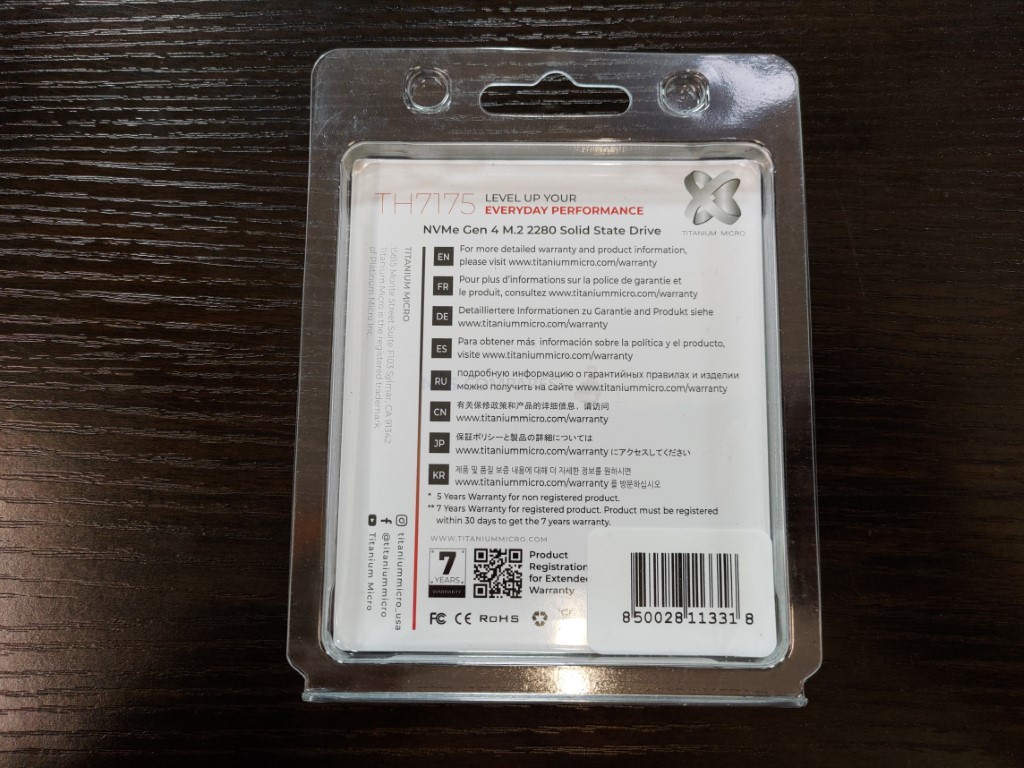 Unboxing the Titanium Micro TH7175 SSD is a rather brief affair! Inside the plastic shell casing, we only find the SSD itself. The display card has all the information regarding warranty and product information links and this SSD does not feature any 1st party inclusive heatsink. NOTE – I removed the SSD label during the YouTube review to display the on-board components, so although I have attempted to re-apply it carefully/accurately, the slight blemish on the sticker was caused by myself during the reapplication.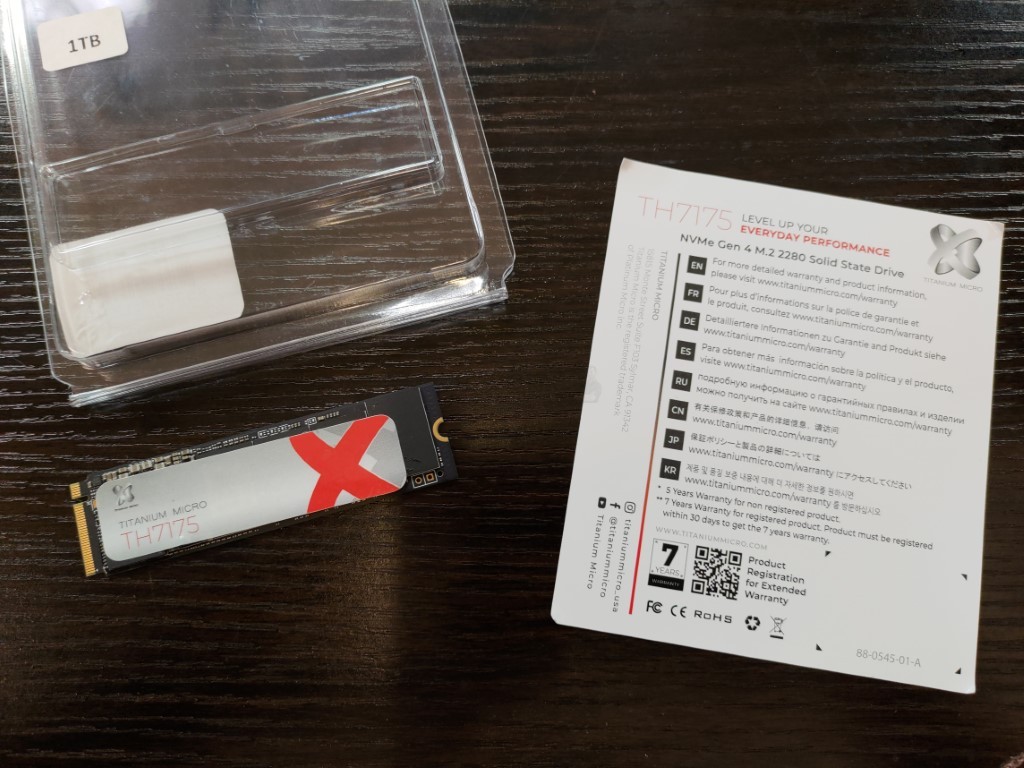 The SSD for today's review is the 1TB version of this series and (again) it is very understated. Lacking the metal top plate of the Sabrent Rocket 4 Plus or the inclusive heatsink of the Gigabyte Aorus 7000s, what we find is a small label that simply denotes the model ID and logo.
Indeed, the label barely covers the NAND/Controller, not that this matters as you would 100% need to use a heatsink of a drive like this! The 1TB model of the Titanium Micro TH7175 is a single-sided SSD and does not suffer from any kind of cramming on the PCB.
The rear side of the Titanium Micro TH7175 has a little more information on the SSD, as well as the clear bocks that the 2 sided 2TB and 4TB models would utilize.
Just before we conducted the full PC benchmark testing, we took the time to test the Titanium Micro TH7175 NVMe m.2 inside the PS5 SSD expansion bay to check it's compatibility. I am pleased to confirm that the SSD fits like a glove with plenty of room for a standard heatsink (the Eluteng m.2 2-part heatsink was used for the PS5 performance testing coming soon on NASCompares).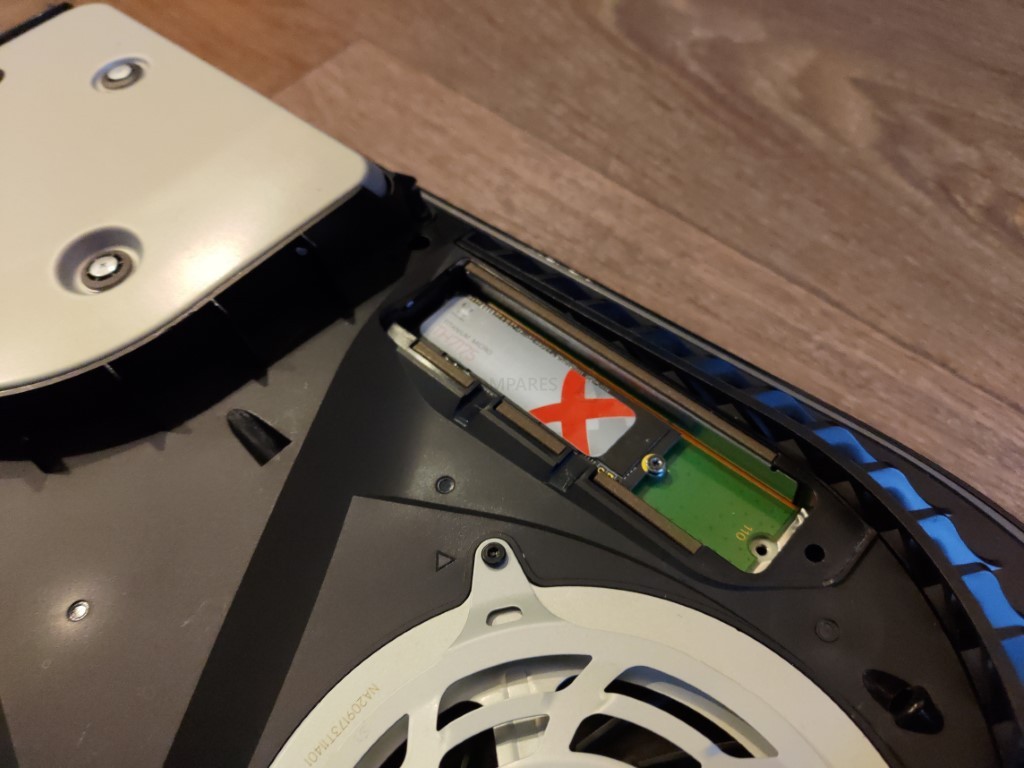 Performance testing of the Titanium Micro TH7175 inside the PS5 (using Beta Software 3.1) showed that this SSD benchmarked 6,557.08MB/s Read on the Playstation's own testing. This puts it more than 1,000MB/s over the recommended minimum for a PS5 storage upgrade and faster in Read and Write than the PS5's own internal SSD. Impressive.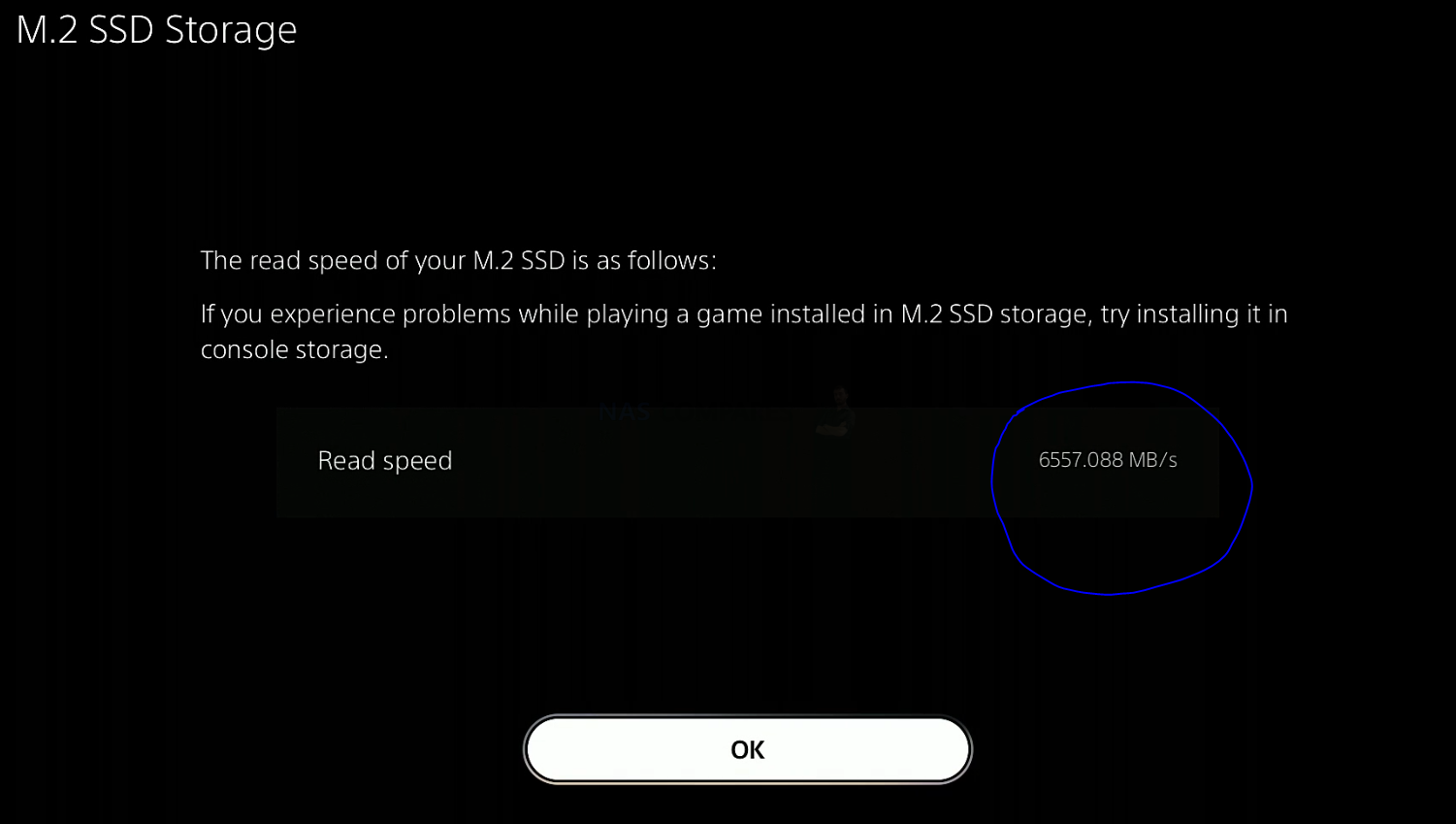 So that is the physical design and PS5 testing of the Titanium Micro TH7175 SSD. But what about the hardware components themselves and how they perform in further PC testing? Does the Titanium Micro TH7175 cut the mustard in terms of current generation hardware and protocols? Let's find out.

Titanium Micro TH7175 SSD Review – Hardware Specifications
As you might expect from an M.2 NVMe SSD that boldly promises performance of over 7,000MB/s sequential read (ie BIG data), the hardware specifications and architecture of the Titanium Micro TH7175 are quite modern. Indeed, for all the big talk of the Seagate Firecuda 530 hardware (still currently the 'score to beat' PCIE Gen4 m.2 NVMe right now) being top tier, the Titanium Micro TH7175 is pretty darn similar on the spec sheet! Below is how it looks:
Titanium Micro TH7175
PCIe Generation
PCIe Gen 4
NVMe Rev
NVMe 1.4
NAND
3D TLC 96L NAND
Max Capacity
4TB – Double Sided
Controller
Phison E18-PS5018
Warranty
7yr (5+2YR with Reg.)
I know a lot of the above will seem needlessly technical, so below we can bring the most important considerations into sharper focus.
Hardware Focus of the Titanium Micro TH7175 SSD Series
The first big, BIG thing to remember here is the controller, that Phison E18. An SSD is much like a microcosm version of a whole computer. The Controller is equivalent to the CPU, and Phison are one of the bigger 3rd party SSD controller manufacturers in the world! I say 3rd party, because some long-running storage brands like Samsung and WD have most of their development and hardware engineering 'in-house' and use their own branded controllers. Whereas some brands source some/all components for their SSDs from 3rd parties – which is not necessarily a bad thing for both them and the industry (there are pros and cons on either side). Phison has been at the cutting edge of this subject for years now and the E18 was first revealed last year in 2020, but due to the pandemic making storage trends unpredictable and semi-conductor shortages, most SSDs that utilized the Phison E18 eventually arrived in 2021. This controller is one of the biggest reasons that the Titanium Micro TH7175 can actually back up it's promises about the 7,000MB/s+ Sequential Read (sequential data = big chunks of data). However, that is not the only reason.
Read more at https://nascompares.com/titanium-micro-th7175-ssd-...